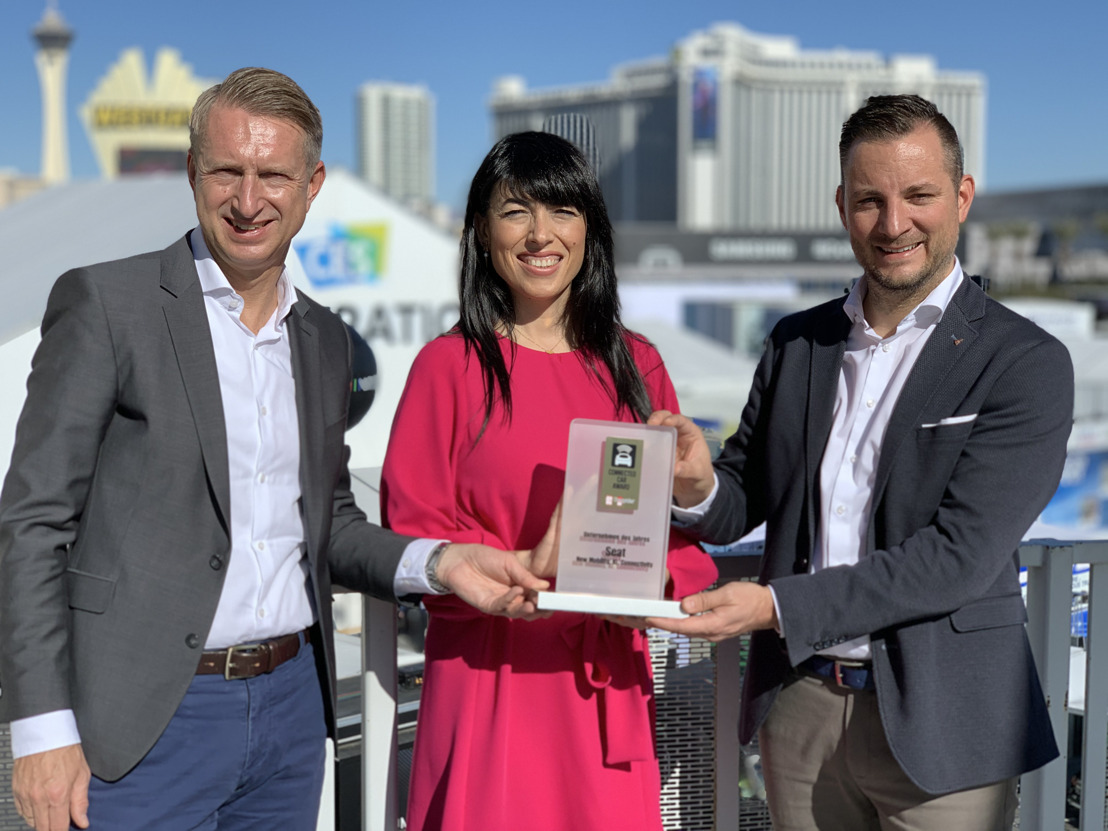 SEAT named Company of the Year at CES 2020
Mercredi 15 janvier 2020
AUTO BILD and COMPUTER BILD singled out the brand's sustainable and future-oriented projects
The Connected Car Award was presented at the CES 2020 in Las Vegas
SEAT's sustainability concept sets standards in industry and trends for urban mobility of tomorrow
After winning in the Pioneer category two years ago, SEAT has once again been honoured by the editors of AUTO BILD and COMPUTER BILD with the renowned Connected Car Award for the best innovations in connected cars. The Spanish brand was recently named Company of the Year 2019 in the framework of the Consumer Electronics Show (CES) 2020 in Las Vegas.
The award, which recognises SEAT's sustainability and urban mobility concepts, was presented to Sebastian Grams, SEAT CIO, and Paqui Lizana, SEAT Head of Digital Products and Services, by Stephan Fritz, AUTO BILD Group General Manager.
Dr. Christian Vollmer, SEAT Vice-president for Production and Logistics, stated that "Our commitment to sustainable mobility starts at home, and that is why we are working hard to turn our headquarters in Martorell into a 100% smart factory. We have tested with drones to deliver parts and we have bus-on-demand and bike sharing services to reduce carbon footprint and contribute to the sustainability and efficiency of our facilities."
More specifically, SEAT employees working in the Martorell factory can, rent bicycles via the bike sharing service Mobike. The service has already been used by more than 2,000 people for over 4,700 short transfers. For longer distances within the facility, employees have a Alhambra-on-demand service available via the ByBus app. In the first weeks after the service was introduced, more than 3,000 employees were transported.
Sustainability concept sets standards
The Martorell plant was the first Spanish production facility to test vehicle parts deliveries by drone. This faster and demand-oriented connection increases the efficiency, flexibility and sustainability of SEAT's Martorell plant, as drones do not produce any CO2 and renewable energies are used to charge the batteries.
SEAT has also been working on mobility solutions for metropolitan areas, and to boost this work, the brand has partnered with IBM. Based on IBM's artificial intelligence (AI), called Watson, SEAT is developing a traffic information mobile app, the Mobility Advisor. This app will enable people to choose the best transportation option: whether it is a car, (kick) scooter, bicycle or public transport. Thanks to IBM's Watson machine learning, the mobility advisor will be able to learn users' preferences and give tailor made recommendations.
Dirk Steyvers PR & Content Manager SEAT & CUPRA, s.a. D'Ieteren n.v.