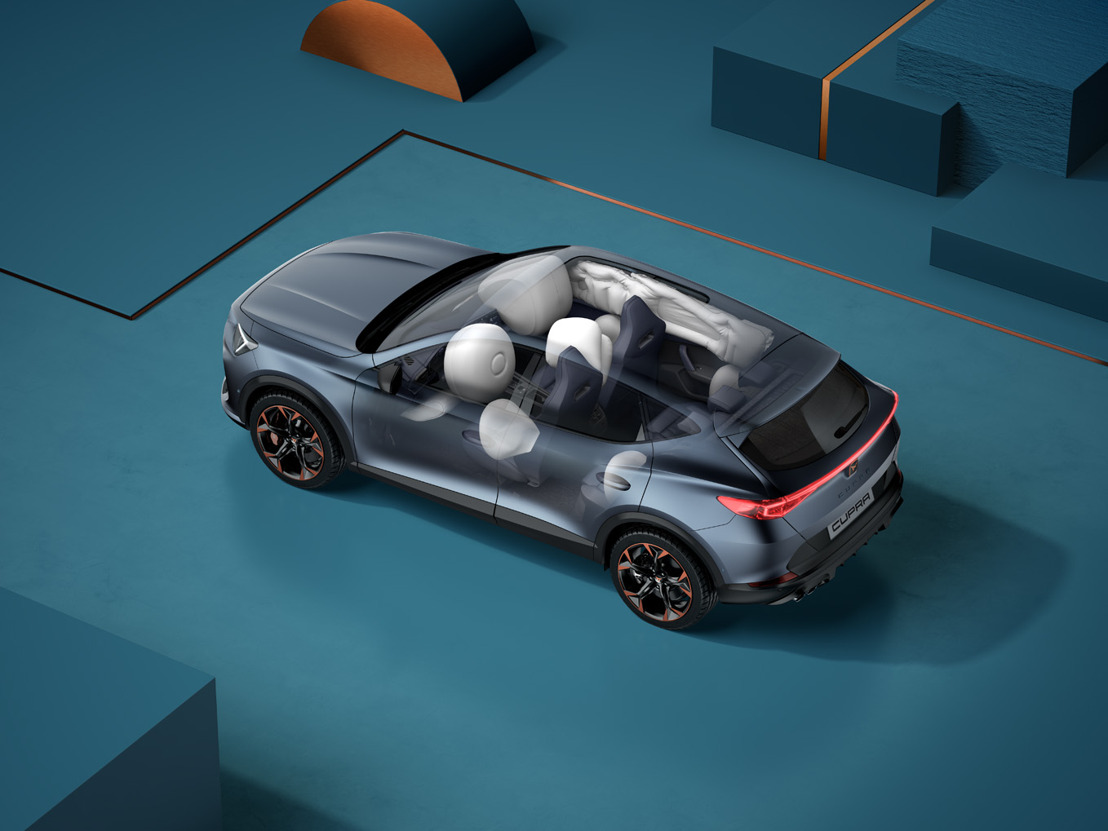 CUPRA Formentor achieves 5-star rating in the stricter Euro NCAP safety tests
Euro NCAP
Formentor is the very first vehicle from CUPRA to be rated by Euro NCAP
The CUV was tested under the latest and stricter Euro NCAP testing requirements and obtained the highest rating
The CUPRA Formentor delivers high levels of safety for occupants – adults and children – and vulnerable road users
The CUPRA Formentor, the brand's first vehicle uniquely designed and developed, has been awarded a five-star safety rating from testing organisation Euro NCAP.
It's the first time one of CUPRA's vehicles has been through Euro NCAP's testing and is a milestone for CUPRA as a standalone brand, especially as this year sees a stricter set of requirements in order to achieve the best ratings under the organisation's testing guidelines.
"CUPRA is making huge steps as it grows as a standalone brand and facing Euro NCAP's safety tests for the first time is the next stage in its development,"said Dr. Werner Tietz, Executive Vice-President for Research and Development at CUPRA and SEAT. "It's a milestone, but a challenging one, as the safety organisation's testing regime has changed significantly, but the CUPRA Formentor is designed to rise to the occasion."
The CUPRA Formentor faced a series of revised tests including the new moving barrier to moving car frontal crash test. The new test replaces the moderate off-set deformable barrier test and helps evaluate occupant protection as well as how the vehicle's front structure reacts in a crash scenario.
Euro NCAP has updated side impact testing too. It now includes changes to the near-side barrier test speed and mass making the test even more severe. Add to this the introduction of far-side impact protection to help evaluate the interaction between driver and the front seat passenger and achieving the maximum five-star rating is now even more demanding.
But the safety organisation isn't only increasing the difficulty of crash tests in relation to passive safety, it is also placing greater emphasis on driver assistance systems and crash prevention technologies. The Safety Assist Assessment looks at areas including driver fatigue and distraction in relation to Driver Status Monitoring systems. While new tests have been introduced to test AEB functionality in back over scenarios and turning at a crossing for example.
Safety ingrained
​A suite of safety and convenience technologies make the CUPRA Formentor safer to live with in daily life and help it meet the demands of the Euro NCAP tests.
Systems including Autonomous Emergency Braking, Side* and Exit Assist*, Traffic Sign Recognition*, Traffic Jam Assist*, Light Assist* and Pre-Crash Assist*, work in unison to create a protective bubble around the vehicle and for occupants.
Add to these the integration of seven airbags, including a standard front-central airbag, Front Assist with vehicles, pedestrians, cyclists detection, Emergency Steering Assist and Junction Assist, Lane Assist and Emergency e-Call and the CUPRA Formentor delivers one of the safest vehicles available, even when faced with the new testing methods used by Euro NCAP.
In addition to detecting vehicles, pedestrians and cyclists, the Front Assist also includes Emergency Steering Assist and Junction Assist. During a Front Assist intervention, after the driver's initial steering input to avoid an object, the Emergency Steering Assist makes targeted steering and braking interventions to help find an optimised evading trajectory.
CUPRA Formentor sets the benchmark
​The CUPRA Formentor scored highly in all areas: Adult Occupant 93%, Child Occupant 88%, Vulnerable Road User 68% and Safety Assist 80%.
The CUPRA Formentor is the first vehicle from the brand to face Euro NCAP safety tests. The organisation re-evaluates it testing practices every two years, and last year's refinements have made them the strictest and most thorough to date.
* optional equipment.
Dirk Steyvers PR & Content Manager SEAT & CUPRA, s.a. D'Ieteren Automotive n.v.