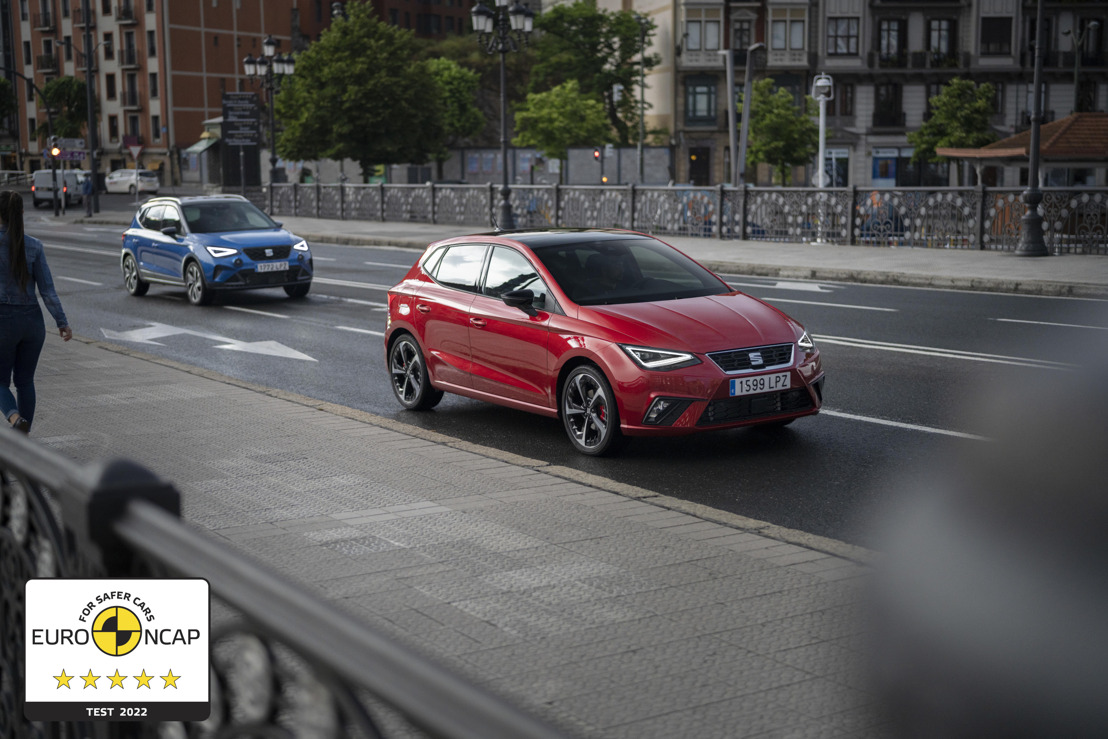 New SEAT Ibiza and new SEAT Arona achieve 5-star in the stricter Euro NCAP safety rating
Both models achieve the highest rating, with host of updates to meet the more demanding testing process
The new SEAT Ibiza and the new SEAT Arona add updated structural countermeasures for frontal and side impact, as well as a modified restraint system to meet Euro NCAP's strict testing methodology
SEAT is committed to offering the safest vehicles on the market; the complete range of SEAT model is now rated 5-star Euro NCAP
The new SEAT Ibiza and the new SEAT Arona maintain their flawless 5-star Euro NCAP safety rating, five years after they first achieved the same star rating. The recognition is even more impressive given how challenging Euro NCAP has made the testing process in recent years.
The tests have become more rigorous and now include the introduction of a moving barrier to moving car frontal crash test, replacing the moderate offset-deformable barrier test. This helps Euro NCAP evaluate the protection of occupants inside the car, and how the cars' front-end structurers contribute too. Add to this updated side impacts to include adjustments to the near-side barrier test speed and mass and far-side impact protection, focusing on driver protection and the potential interaction between driver and front seat passenger.
"It's a proud moment for everyone who worked on the new SEAT Ibiza and Arona to have achieved Euro NCAP's top rating," said Dr Werner Tietz, SEAT's Executive Vice-President for Research and Development. "SEAT always places great emphasis on safety, integrating the latest technologies, whether active or passive, to deliver the safest vehicles on the market."
SEAT succeeded in the Euro NCAP safety assessment, even with more rigorous testing, by taking an evolutionary approach to the new SEAT Ibiza and Arona's passive and active technologies.
In addition to the existing equipment already found on the two vehicles both were updated to include modifications to the exterior body: re-designed front-end structure was adapted for the new Mobile Progressive Deformable Barrier head-on crash, as well as structural reinforcements for side impact protection.
The vehicles' restraint systems were also updated to integrate front seat belts with a dual belt pretensioner, and in the rear a seat belt reminder is also included. Add to this a new passenger airbag and the interior has become even safer.
Safety tests also reply on an impressive range of active safety technologies to help mitigate and in some cases prevent incidents occurring in the first place.
Both the new SEAT Ibiza and Arona now integrate new camera technology as standard as well as Lane Assist technology. In addition, the onboard radar software has been optimised to include Pedestrian and Bicycle Recognition, helping protect vulnerable road users.
SEAT Ibiza and SEAT Arona: amongst the safest urban cars in the market
The new SEAT Ibiza scored high in each area tested: Adult Occupant 83%, Child Occupant 82%, Vulnerable Road User 66% and Safety Assist 70%.
The new SEAT Arona also achieved high scores: Adult Occupant 83%, Child Occupant 83%, Vulnerable Road User 65% and Safety Assist 70%.
SEAT is determined to continue to develop vehicles that excel during Euro NCAP tests, no matter how strict they become. The new SEAT Ibiza and Arona maintaining their 5-star awards and joining the the rest of the SEAT Range in doing so, is testament to the brands dedication to delivering the safest vehicles possible.