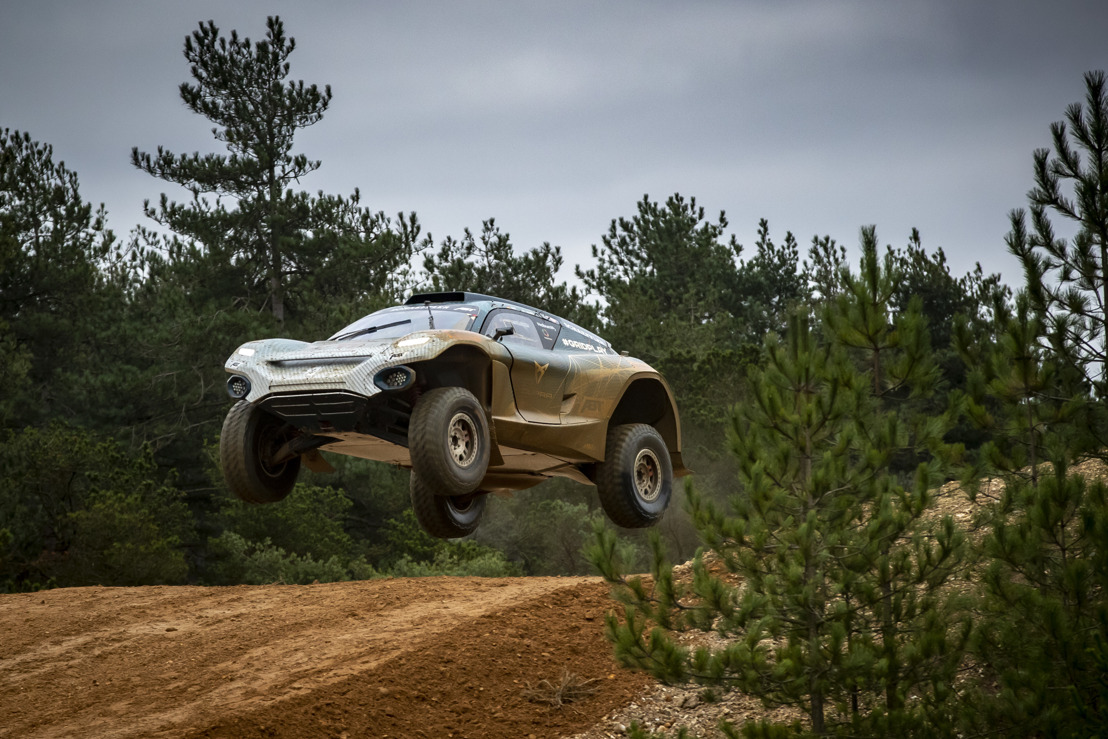 CUPRA closes the first Extreme E season in fifth place
Extreme E season 1 & 2
Mattias Ekström and Jutta Kleinschmidt fought to the finish in the Jurassic X Prix, the final event of the year
The team ends the championship in fifth place, with a second-place finish its best result during the season
CUPRA ABT XE continues its commitment to Extreme E and will compete in its second season, which starts in February in Saudi Arabia
The CUPRA ABT XE team has finished the first Extreme E season in fifth position after an intense fight for the top places in the Jurassic X Prix, the final round of the year, held in Dorset (United Kingdom). It was the competition's most extreme race so far, with rain, fog, mud and very difficult visibility conditions.
Mattias Ekström and Jutta Kleinschmidt demonstrated the pace of the e-CUPRA ABT XE1 throughout the weekend: they were second in practice and fourth in qualifying, with the team participating in the second semi-final. Second place would have been enough for CUPRA to qualify for the grand final, but a racing incident while Ekström was at the wheel caused serious mechanical damage to the e-CUPRA ABT XE1.
CUPRA ABT XE ends the season in fifth position overall, with a second place as its best result.
"It has been a challenging year; in which we have discovered a totally new championship. That is why we are proud of the entire CUPRA ABT XE team and, of course, of our drivers, Mattias and Jutta, who have done a great job"said Xavi Serra, Head of CUPRA Racing. "We finished the season in fifth place, but we know we have the potential for much more, but that's the way racing is! In Sardinia we achieved our first podium, and I am sure that in 2022 we will achieve many more. This is just the beginning..."
Extreme E: The adventure continues in 2022
After this season of learning, the CUPRA ABT XE team will compete again in Extreme E 2022. CUPRA, the first car manufacturer to enter the championship, will continue working closely with its partner ABT to put into practice all the knowledge acquired during this challenging campaign.
This year, the Extreme E has competed in some of the most challenging places in the world, which are also threatened by climate change. From the Al-'Ula desert, in Saudi Arabia, through the Lac Rose in Senegal, Greenland (where it was the first automotive competition to be held), the island of Sardinia in Italy, to the Jurassic Coast, in the southwest of the United Kingdom. The championship has collaborated with local organisations on research projects and has implemented actions to protect the environments in which it has competed.
The 2022 season of Extreme E kicks off on 19-22 February in Saudi Arabia. Later, four more events will be held, in locations still to be revealed, except for the finale, which takes place in Chile at the end of November.
Dirk Steyvers PR & Content Manager SEAT & CUPRA, s.a. D'Ieteren Automotive n.v.